As one of the initial ten charter agencies incorporated in Canada in 1960, Big Brothers Bigs Sisters of Grey Bruce (BBBSGB) has been serving youth and families throughout the community for over 60 years. Transitioning to Big Brothers Big Sisters of Owen Sound in 2016 and again expanding our reach in 2019 to Grey and Bruce, we are proud to have deep roots. As a mentorship organization, we believe in investing in the power and potential of all youth and our mentorship programs do just that. With both community-based and in-school programs, we ensure children and youth are supported to overcome adversities and increase resiliency across time.
EQUITY, DIVERSITY AND INCLUSION STATEMENT
At Big Brothers Big Sisters Grey Bruce (BBBSGB), we believe working towards equity, diversity and inclusion involves an ongoing commitment that starts with active listening, reflection and action. Our vision is communities free of discrimination where all young people are empowered to realize their full potential. Our members believe in the dignity and worth of each individual and regard the welfare of the community we serve as our primary obligation. At BBBSGB, we are committed to ongoing personal development and professional growth, and as an organization, pledge to leverage our platform and utilize our programs to support the potential of all youth, in all communities throughout Grey and Bruce.
BBBSGB believes we are strengthened by diverse perspectives, backgrounds and experiences and we welcome input from all members of the community.
LAND ACKNOWLEDGMENT
BBBSGB acknowledges with respect to the Indigenous Peoples whose traditional territory we reside, the Haudenosaunee, Ojibway/Chippewa and Anishnabek peoples. We acknowledge our collective responsibility to accountable relationship building and meaningful acts of reconciliation.
Service Area
Municipality of North Bruce Peninsula: Lion's Head, Tobermory, Dyer's Bay, Miller Lake, Stokes Bay, Ferndale, Barrow Bay, Pike Bay, and Lindsay. Municipality of South Bruce Peninsula: Allenford, Berford Lake, Clavering, Colpoy's Bay, Elsinore, Hepworth, Hope Bay, Howdenvale, Dilphant, Parkhead, Purple Valley, Red Bay, Sauble Beach and Wiarton. Municipality of Arran-Elderslie: Chesley, Paisley and Tara. Town of Saugeen Shores: Port Elgin and Southampton. Chippewas of Nawash Unceded First Nation (Neyaashiinigmiing). City of Owen Sound. Township of Chatsworth: Chatsworth, Arnott, Berkeley, Desboro, Dornoch, Glascott, Grimston, Harkaway, Hemstock Mill, Holford, Holland Centre, Keady, Keward, Kinghurst, Lily Oak, Lueck Mill, Marmion, Massie, Mooresburg, Mount Pleasant, Peabody, Scone, Strathaven, Walters Falls, Williams Lake, and Williamsford. Township of Georgian Bluffs: Alvanley, Balmy Beach, Benallen, Big Bay, Clavering, Copperkettle, Cruickshank, East Linton, Hogg, Inglis Falls, Jackson, Keady, Kemble, Kilsyth, Lake Charles, Lindenwood, Oxenden, Shallow Lake, Shouldice, Springmount, Squire, Wolseley, and Zion. Municipality of Meaford: Meaford, Annan, Balaclava, Bognor, Centreville, Leith, and Woodford. Town of the Blue Mountains: Thornbury, Blue Mountain Resort and Village, Banks, Camperdown, Castle Glen Estates, Christie Beach, Clarksburg, Craigleith, Duncan, Gibraltar, Heathcote, Hurlburt, Kolapore, Little Germany, Loree, Ravenna, Redwing, Sixth Line, Slabtown, Victoria Corners and Clarksburg. Municipality of Grey Highlands: Flesherton, Markdale, Artemesia, Euphrasia and Osprey. Municipality of West Grey: Durham, Neustadt, Genelg, Normanby and  Bentick Township. Town of Hanover. Township of Southgate: Bethel, Birdell, Boothville, Cedarville, Dromore, Dundalk, Egerton, Gildale, Holstein, Hopeville, Kingscote, Landerkin, Proton Station, Robbtown, Signet, Swinton Park, Tartan, Thistle, Varney, Ventry, and Yeovil. Simcoe County: Wasaga Beach, Creemore and Clearview. Township of Collingwood: Collingwood and Thornbury.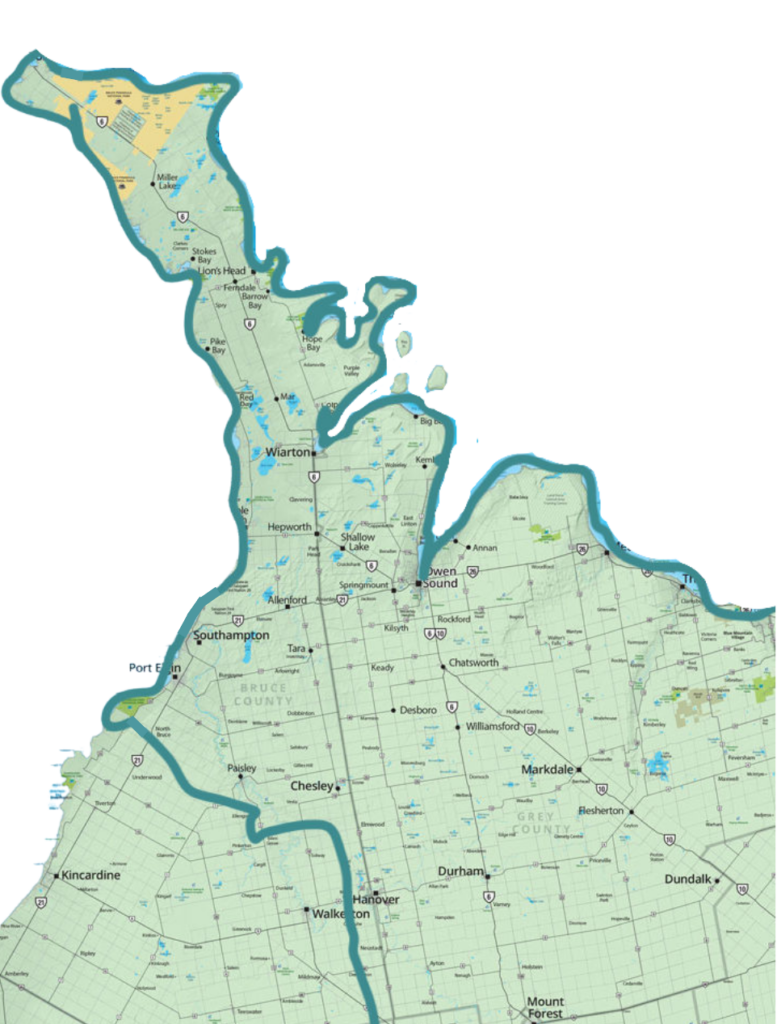 Championing the health and wellbeing of youth
SERVING CANADA'S COMMUNITIES
This year alone Big Brothers Big Sisters impacted over 41,000 youth in over 1,100 communities across Canada.
REPUTABLE AND ACCOUNTABLE
Providing life changing mentoring experiences since 1912, Big Brothers Big Sisters was named One of MoneySense Magazine's top 10 youth charities in 2019.
IMPROVING SOCIETY
Every $1 invested in our programming returns between $18-$23 to society through taxes, higher incomes, volunteerism, and charitable donations.
VISION
All young people realize their full potential
MISSION
Enable life-changing mentoring relationships to ignite the power and potential of young people
STRUCTURE
Big Brothers Big Sisters of Canada is a Federation comprised of 102 member agencies servicing more than 1,100 communities across the country.
ISSUE
Many children and youth in Canada struggle with societal barriers and face adversities in their lives.
IMPACT
Facing prolonged adversity creates toxic stress in the brain that can negatively impact development.
SOLUTION
With the support of a mentor, these risks can be reduced or even avoided, and youth can reach their full potential.
Many children and youth in Canada struggle with societal barriers and face adversities in their lives like detrimental living conditions, family violence, risk factors for mental health, school issues and identity challenges.
These circumstances have nothing to do with the value of who they are or who they can become, but because of these situations, children and youth risk not having the opportunity to live up to their full potential.
Even worse is the possibility of continuing cycles of poverty and crime or developing mental health issues.
This comes at a cost to the young person, and to society.
With the guidance and support of a mentor, these risks can be reduced or even avoided, and youth are reminded they can be anything they dream of being.
Big Brothers Big Sisters of Canada is a Federation comprised of 102 member agencies servicing more than 1,100 communities across the country. Together we mobilize over 20,700 volunteers who in turn mentor 41,400+ children and young people. That works out to nearly:
2.1 million volunteer hours each year
Each Big Brother Big Sister agency provides direct service to children by matching volunteers and youths in quality mentoring relationships. Our agency staff members are experts at screening volunteers and matching them with a mentee having similar interests.
The national organization provides services and programs to our member agencies to assist them with their work with parents, mentees, and volunteers. Ranging from staff training workshops to our leading Child Safety Program, Big Brothers Big Sisters of Canada works diligently to ensure we have superior quality programming in all parts of the country.