Due to the pandemic, this year's Bowl for Kids' Sake event looked a lot different, as we had to adjust our traditional event at The Bowling Alley to a virtual event. Even though our in-person bowling went in the gutter this year, we rolled with the times and still had a lot of fun! From April 10th to the 30th teams and individuals bowled from home, played our online bowling game, Wii bowled or created their own at-home bowling alley.
Although we had to transition our event to a virtual platform, our event was a great success!! We were blown away from the incredible support of our participants and community members. From pledges and general donations, we were able to ROLL in over $18,000! These much-needed funds will help us continue our mission of supporting the many youth we serve and empower them to reach their full potential, through our mentoring programs.
Big Brothers Big Sisters of Grey Bruce wants to give a huge "THANK YOU!" to all the participants, everyone who pledged and donated. We also want to thank our sponsors Rogers, Bayshore Broadcasting, Grant Cook Electrical and our event sponsor, Bruce Power. It is only because of all of you, that we are able to continue providing meaningful relationships to youth in our community, who need our services.
We look forward to rolling with you all next year!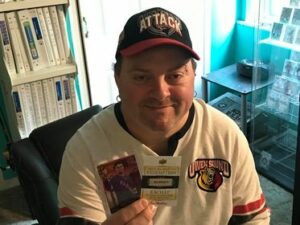 Jim Reid has been a devoted participant of our annual Bowl for Kid's Sake event. He has been raising crucial funds for our programs for 42 years! WOWZA!
We are SO incredibly GRATEFUL for community members like YOU, who year after year, continue to show up for the many youth we serve.
Congrats on being the TOP Fundraiser!
CONGRATULATIONS TO OUR WINNERS!
Top Fundraiser: 
Jim Reid-an Alexis Leafreniere Hockey Card 
Vicky Hicks- $125 gift card to East Side Mario's 
Mark Perry-$100 gift card to Sizzlin's restaurant & a $25 Tims gift card
Mary Anne Alton-$100 voucher to Caseros
Highest Pledged Team:
Richard's No Frills-Every year the high pledged team receives a plaque in memory of someone who has supported us. This year Richard's No Frills received a plaque that is dedicated in memory to those who lost their battle with mental illness. 
Live Draw Winners: 
Lincoln-$30 gift card to Foodland
Graiden McNabb-Leon's pillow & a $500 voucher & $30 Foodland gift card 
Jim Walter- $30 gift card to Foodland
Vicky Hicks-2 jars of BBQ sauce &  $20 OS Montana voucher
Isaac Johnson-$50 gift card to Caseros 
Little's Prizes: 
Lincoln-$50 gift card to Mastermind Toys
Trinity- $50 gift card to Mastermind Toys
Graiden- $50 gift card to Mastermind Toys 
The Bill Murdoch Challenge: 
Vince Roe- $100 Sizziln's restaurant gift card 
Tyler Stone-$50 Montanas gift card 
Sam Campbell- $50 Montana's gift card
Since we are currently in a stay-at-home order, please wait until after June 2nd to pick up your prizes at the Harmony Centre, located in Owen Sound. Please, call the day before coming, so we can arrange for pick up. Call 519-376-4449.
With you, we are "BIGGER TOGETHER"!